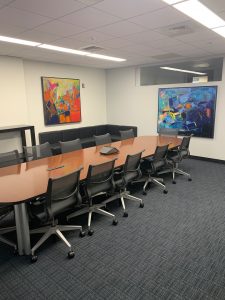 Walk in, plug in and be ready to work
Our Conference Rooms are designed for 2 to 30 people, and is equipped with Audio Video including large presentation screens, flip charts and secure internet access. We also offer a full range of services from catering to creating your PowerPoint presentations.
State-of-the art conference rooms are available by the hour or the day. Business Centers members receive special discounted rates with no minimum reservation requirements. Contact me for more details.
All rooms come fully equipped with telephones and high-speed internet access.
OFFICES:
Work Station
Suitable for 1 person to work at a non-private desk
Club Office
Suitable for 1 person to work in private
Day Office or Meeting Room
Accommodates 2-3 people to meet in private
MEETING ROOMS:
Conference Rooms
Accommodates 4-12 people to meet in private
Present on a large screens using HDMI or App.
Board Room
Accommodates 12-20 people to meet in private
C-Suite experience with tools for screen sharing
Video Conferencing capabilities like Zoom & Skype
ACCESS MEMBERSHIP PLAN
Monthly membership plan that give you the freedom to reserve at member rates- with no minimum.
Contact me for more details